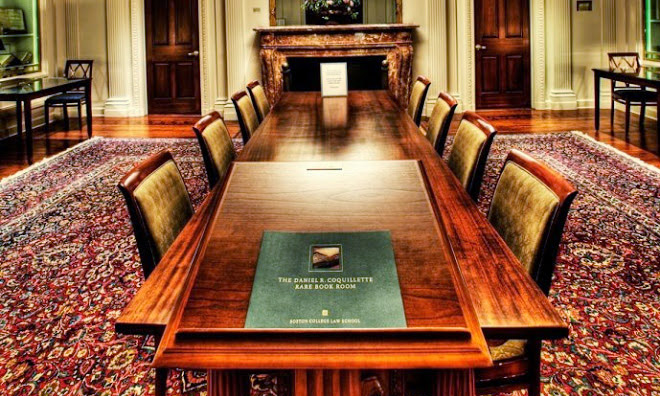 The Daniel R. Coquillette Rare Book Room, located in the Boston College Law Library, houses the Library's collection of old and rare law books and manuscripts. Represented in the collection are the books that working English and American lawyers in the sixteenth through nineteenth centuries likely would have owned in their personal libraries. Other highlights include books and manuscripts pertaining to the history of American legal education through the nineteenth century and a collection featuring works by and about St. Thomas More.
This collection includes digitized versions of materials from the Rare Book Room, as well as a collection of programs from exhibitions presented in the Rare Book Room.
The Rare Book Room is named in honor of Daniel R. Coquillette, Dean of the Boston College Law School from 1985 to 1993 and currently J. Donald Monan, S.J. University Professor. For more information about the Rare Book Room and its collections, please visit the Daniel R. Coquillette Rare Book Room homepage.
Rare Book Room collections in Boston College Digital Collections:
Browse the Daniel R. Coquillette Rare Book Room Collections:
Rare Book Room Exhibition Programs